APRIL 2008

There is never enough time to do everything, but there is always enough time to do the most important thing. ~Brian Tracy

How did two months fly by since my last update? I can't believe how fast time is going-our six month "Gotcha Day" anniversary is right around the corner. Our family is so busy right now with school, music, sports and scouts. As a mom, I am enjoying every minute of it. Nothing better than watching your kids doing what they love.

As usual, Ella continues to be the center of attention in our family. I actually think she is getting more attention than ever before. We are so in love with this little girl that we can't get enough of her. She is progressing so well-everyday is a new milestone. She is learning so quickly that I am in amazement with what she understands. Everyone around her can understand what she is saying and she comprehends everything you tell her to do. Her little brain is a sponge and she soaks it all in. Ella has developed many friendships with girls her own age and enjoys the Wednesday morning playgroup she belongs to. Ella continues to thrive in preschool and loves to go. Ella is always especially proud of her art projects. She has brought home an array of animals-her favorite being a bunny at Easter. One week in preschool, Ella's class went "around the world" and the first place they stopped was China. The other kids in her preschool got a glimpse into where Ella came from and of course, Ella loved all the attention. Ella's body is getting healthier everyday. Her leg muscles are getting stronger and her ligaments are loosening up. She is becoming more coordinated-she hasn't fallen out of the bed in two months! Ella walks, run, and climbs stairs almost like a four year old should. She is even learning to ride her bike, although the coordination of pedaling was a little tricky for her. I am hoping that after a summer of playing in the pool that she will be physically caught up for her age. We also got some great news about Ella's lead levels in her blood-they have dropped so low that she does not need any more blood tests. As a mom, I am shouting Yippee! Ella still has her contagious laugh and a sense of humor. She makes us laugh everyday. Ella has learned how to play with her toys, which to some might sound strange, but Ella really did not know what to do with all her toys. We have had to teach her how to play and now Ella's favorite thing to do is play "princess dress-up." Play-Doh, puzzles and art projects come in a close second. She loves to draw and is becoming a good little artist. When we first brought her home, Ella could barely draw a straight line. She now draws our family and tells everyone who is who. Ella can spell her name, count past 20; she sings the alphabet (although she misses a few letters sometimes.) She can name colors and shapes. Ella continues to be a wonderful helper around our house…she can fold a kitchen towel that the military would be proud of. Ella loves to have books read to her. My favorite time of the day is when I get to read to Ella. Ella loves to add her comments about the story as we are reading along. Her favorite book right now is Ballet Kitty. Ella has the book memorized and tells me what is going to happen. She loves to point out the Ballet Kitty has a pillow-just like Ella and Ballet Kitty has a bed-just like Ella. She makes comparisons in the books we read to her own life. Ella loves to play board games and plays a mean game of Memory. She remembers everything…whenever I think I am getting back some of the brain cells I have burnt off raising kids, I sit down and play memory with Ella and realize there is no hope for me at all. Ella loves to have her picture taken and will model at will…in front of a camera, video recorder, cell phone-you name it and she will strike a pose. Ella also loves her hair-bows…I need to find out how to make them (or buy them cheap) because she always wants a "pity bow." We are patiently waiting for her hair to get longer so we can add more pretty bows to it. Ella still attends Mandarin classes every Saturday. She does not speak much Mandarin anymore, but whenever we go to class she loves it. And last but not least is Ella's love for Ni Hao Kai-lan. She loves this show so much-it is the only show she watches. The show has actually taught her so much, especially about emotions. She asks to go visit Kai-lan's house, she knows all the characters, and she calls her Grandpa "YeYe." She has perfect pronunciation of the Chinese words they teach on the show. She would watch Kai-lan all day if I would let her. Love the show.

There are days I still can't believe that she is here-in our home-the most perfect little girl for our family. We are so blessed-I know that I keep saying that, but I tell everyone that Ella has blessed our family in so many ways. I am so amazed by this adoption process-such a divine plan, guided by quite whisperings of the Spirit telling us that our daughter was a half a world away waiting for us. I am deeply grateful for that guidance. I keep thinking that life can't get better than this, but life always surprises me and it just keeps getting better.

View our blog here.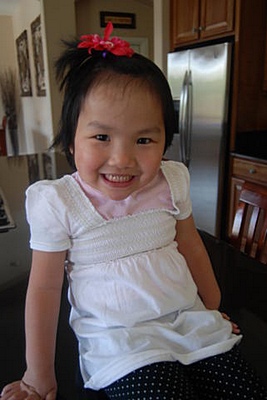 Posing As Usual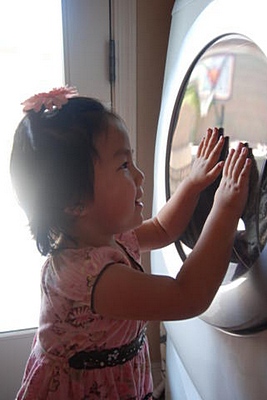 Waiting For Bear To Take His "bath"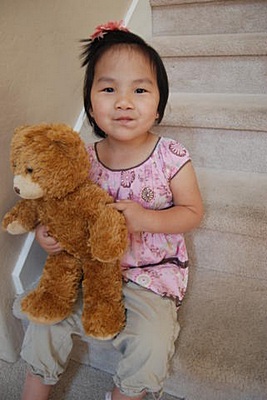 Ella's Favorite-Bear



Hanging Out At My Brothers Baseball Game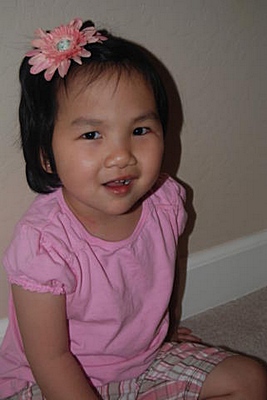 Posing Again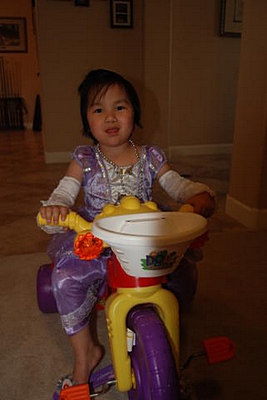 A Princess Always Needs A Carriage